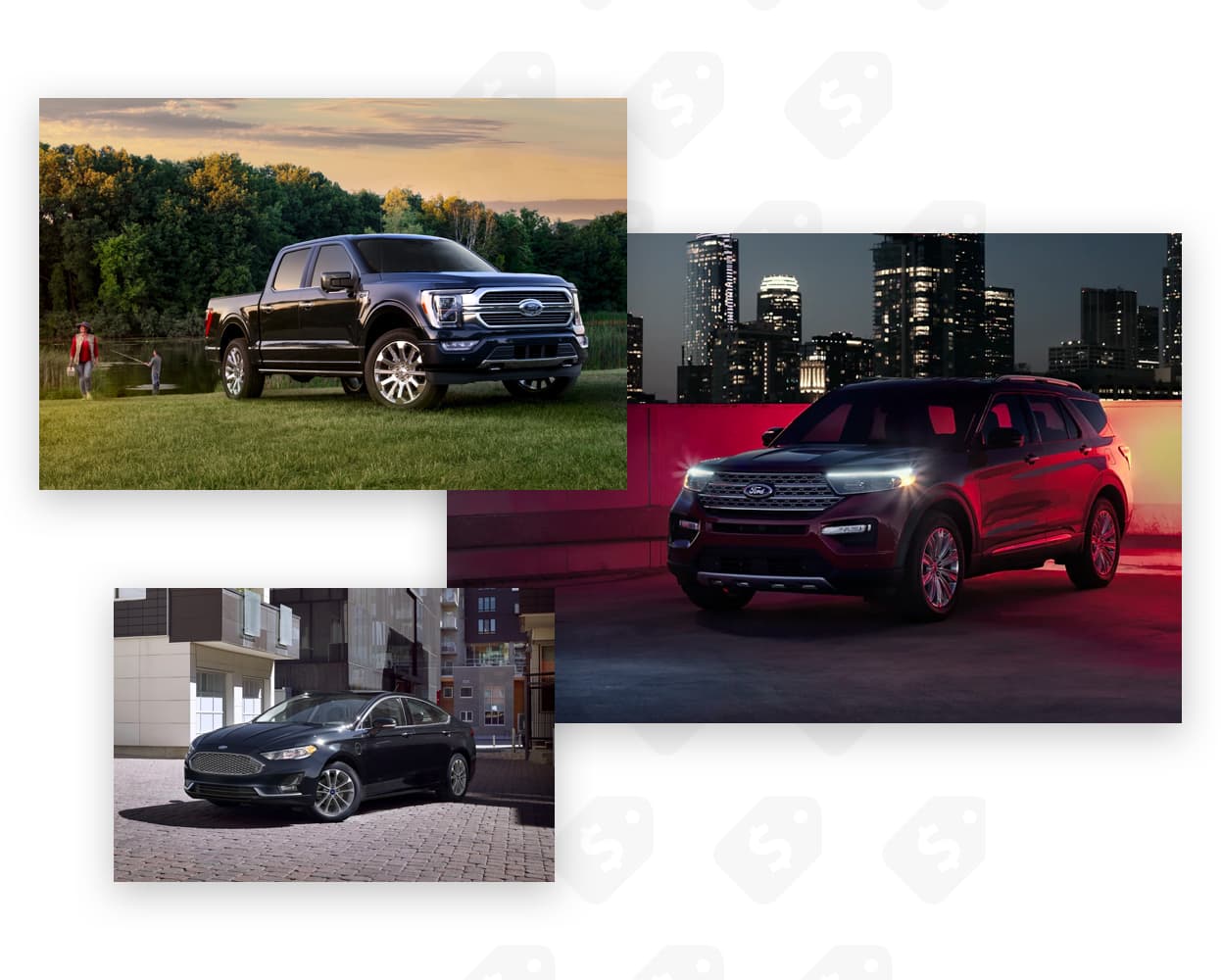 Take Advantage of This Month's Current Offers
Every month Ford releases incredible cash-back offers and special financing rates along with discounts featured in other special programs.
We're Here For You
Sunrise Ford - North Hollywood always puts customers first!
Don't take our word for it: Read our reviews and see what everyone is saying.
Beautiful dealership. Unfortunately my truck sold as I went up the escalator, best inventory from Sacramento to Palm Springs. See Miguel for all your needs
Everyone was super nice and friendly at Sunrise Ford.
The staff was amazingly attentive and receptive to my questions and concerns. They were extremely helpful in guiding me to the vehicle that was most suitable to my driving needs and wants. The process was smooth and greatly reduced the anxiety some of us feel when purchasing a new car. I will definitely go back to Sunrise Ford for my future car buying needs.
Loved working with Rafik. Highly recommend! And love my new Ford Bronco Sport!
The new way to buy a car these days is to order it (unless you're lucky enough to find something you want and have an extra $10K to pay for it). Contact Sunrise Ford, ask for "Internet Jimmy" and he'll take care of you. Jimmy was the best…honest, helpful, and consistent. I wouldn't have my 2023 Ford Maverick without him…the other dealerships need to catch up to Sunrise Ford's services and "Internet Jimmy's" ability to make things happen.
Best ford dealer in California. They have a great selection, got right to the best price, and the sales person was amazing. Will be coming back for all my future fords! Thank you
Always incredibly helpful and super kind
They made it really easy for me to get my dream truck. They helped out above and beyond to get a great deal
Very good service Willis is A+
I leased a SUV from your branch and the person who helped and took care of my need was very professional and exactly knew what I need and what suits my situation! Mike Sobouti is professional high rank personnel and I thank him and thank you for having such great staff! Thank you Mike! 🙏🌸 I love and enjoy my lease. Looking forward to upgrade as well. Ford is the greatest and I like to stay with you guys. Thanks a million to Mike Sobouti who took care of my deal.🙏🌷
Sunrise Ford in North Hollywood is the best! Once again Victor Cornelio gave me white glove VIP service. Great car buying experience here.
We recommend Jordan next time you go to Sunrise Ford NoHo. Jordan Thank you very much, for your time and knowledge, it was a pleasure to meet you. Sylvester and Rosebud
They are amazing group of people the fought an fought for me to get my flex an we got it so thank you all. Everyone is awesome very welcoming so thank you all to saul an the team.
Everyone was amazing, very friendly and knowledgeable. We purchased our car from a Jordan and we was a professional through and through and went above and beyond helping us. We went to two other ford dealerships and left almost immediately because the staff didn't compare. Brandon was awesome as well, he really worked out a deal that left us feeling really confident and satisfied with our purchase.
Everyone was super helpful, and no one felt pushy or "sales-y" MUCH appreciated! Made the buying process so nice and stress free
Sal went above and beyond to help me! I recommend this place 100% for all your vehicles needs!!
It was a pleasure being there and being helped by Gabriel, made my transition smooth and easy, thanks
It is always great to work with Marco and Sal they make a great team to work with I have bought 12 cars from them so far and never disappointed.
Sunrise Ford is the Best!
Great car buying experience. I've been a customer for 12 years and keep coming back for their friendly and helpful staff.
It's. Very good service thank you
Wonderful experience with Sunrise Ford! They were helpful and friendly walking me through my purchase. I worked with Mike and he did everything possible to take the stress out of it and get the buy made. I couldn't be happier.
Mike Soboti helped my wife and I pick out a Bronco Sport and it was a fabulous experience. Mike was extremely generous with his time, not pushy at all, and very knowledgeable. If your interested in a Ford, I'd highly recommend making an appointment with Mike.
Great experience at Sunrise Ford of North Hollywood. Made sure we felt good about the car and excellent deals. Will go back for another car!!

Welcome to Sunrise Ford - North Hollywood
Car shoppers have found that Sunrise Ford - North Hollywood is the best place to find new Ford Cars, Trucks, SUVs, in Southern California. New Ford Hybrid models are all in stock at our Sunrise Ford - North Hollywood Dealerships, with more than 2500 vehicles to choose from you are sure to find the perfect Ford vehicle to fit your lifestyle and your budget. Browse our full inventory online at both of our huge Southern California locations. Sunrise Ford - North Hollywood is the leading authority on Ford Cars, Trucks and SUVs serving Los Angeles. Ford owners depend on the solid craftsmanship and innovative technology built into all Sunrise Ford - North Hollywood vehicles serving Glendale, Burbank, San Fernando and other Los Angeles area car shoppers are invited to stop by our Ford Dealer showroom, take a test drive and see why so many car shoppers are choosing Ford over the competition.
Contact Us
Sunrise Ford - North Hollywood
5500 Lankershim Blvd
North Hollywood, CA 91601
Sales:
818-264-4169
Service:
818-584-1672
Parts:
818-201-2571
Directions