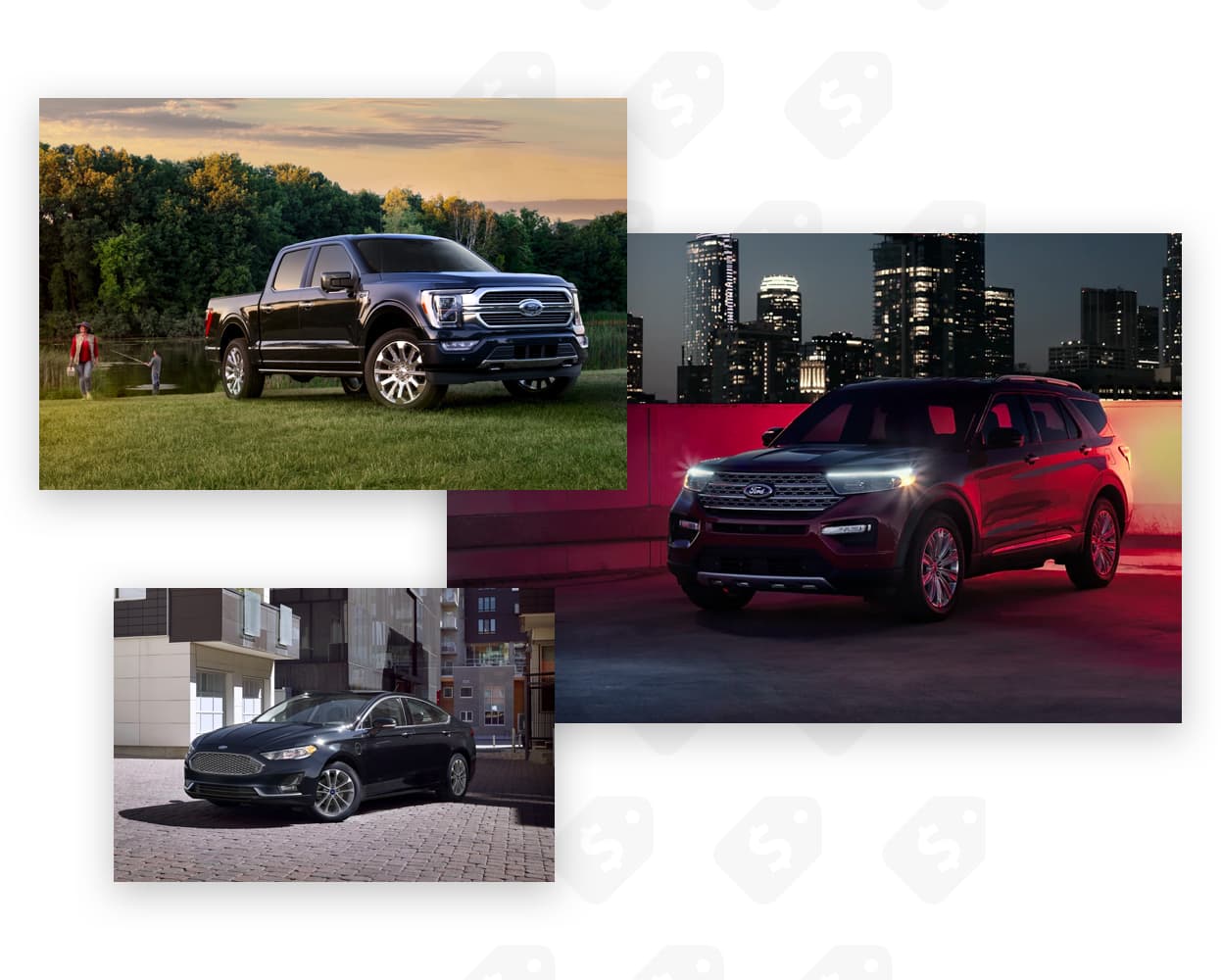 Take Advantage of This Month's Current Offers
Every month Ford releases incredible cash-back offers and special financing rates along with discounts featured in other special programs.
We're Here For You
Sunrise Ford - North Hollywood always puts customers first!
Don't take our word for it: Read our reviews and see what everyone is saying.
Hassle free, Gary answered all my questions a d worries about a future payment. Place was clean and covid free which was nice. Would recommend.
Have nothing but great things to say about this dealership. Great experience and very welcoming and clean dealership. Easy buying experience.
Great experience buying a car with Gary D. Thanks for all your help in making this transaction an easy one for my family!
Arrived internet Sales mgr was ready with our car I purchased the car with a cashiers check for the price it was listed for Best service ever Staff was professional and knowledgeable. I must warn any Ford buyer that at Huntington Beach Ford is a nightmare.!!!! Buyer beware of H/B and the TimMcDonal employees that lead there sales staff Si in summary H/B Ford BAD Sunrise OUTSTANDING Thsnk You Oh one last thing Sunrise does not make you finance thru Ford They where Happy to take a cashiers check same one I had at H/B Hope this helps other Ford buyers .
Excellent salesperson Jimmy Ochoa was able to find the vehicle at a price that made me Happy.
Fantastic customer service!! Miguel, Thank you so much for the service. I am very pleased!! Definitely, recommend to anyone!!
Miguel was amazing, he provided all information needed and made my decision very easy to make! Thank you!!
Nick S. is an amazing Service Rep! He anticipated solutions and me guided with the most cost effective route to properly repair my vehicle. Everything was upfront and to the point with Nick S. No scams or run arounds. Thank you Nick! Oh and he listened to the whole story took notes and connected to the right people to find a solution. Got back to me the same day if not immediately after contacting him. Thank you Nick!
I just purchased my new 2022 Maverick through Sunrise Ford. This is the second vehicle we have purchased through this dealership and we couldn't be more happy with the knowledgeable and professional sales and service staff. No hidden fees or runarounds that you might find at some dealerships. My only issue is the circular phone system that means you have to ask for the desired department multiple times. The staff in every area, however, are incredibly polite and obliging. I want to especially thank Brandon Suero for helping me complete (correct) my online order with the dealership; Raoul (an excellent up and coming salesperson), who helped get me and my vehicle ready to go; Giovanni Gomez for helping me understand the mountain of paperwork, and finally, Alex Chihaia who pulled it all together. Thank you and well done, folks!
Calidad muy eficientes buena atención Excelente si les recomiendo este diler son muy profesionales lo recomiendo
It has now been six years that I have been taking my Ford Fiesta to Sunrise Ford in North Hollywood for service. They are always more than great. The service writers (Jessica gets an A+!) are very helpful. And, apparently, the technicians are great, also, because the charges are more than reasonable. This "little old lady" is very happy that I always can depend on Sunrise to help me keep my car in good condition.
I live in Los Angeles and I talked to 9 Ford dealerships all over southern California and three car buying services looking for a very scarce fully equipped '21 Explorer ST, which included a boondoggle to a San Diego dealership to pick up what was supposed to be my fully equipped ST. I ended up at Sunrise Ford North Hollywood where Salesman Richard Niver found the exact ST I was looking for and Sales Manager Alex Chihaia beat all other dealer's quotes. I arrived at the dealership with two great rate preapproved loans and the Finance Director Sal Medina was still able to get me an even lower rate! I LOVE SUNRISE FORD NORTH HOLLYWOOD! Oh, and in case you think I'm just new to the car buying experience, this Explorer ST is my 28th vehicle.
The owner, GM and Michael Faina all dealt with me with integrity and honesty. It?s a rough time right now for auto sales and they went out of their way to take great care of me in buying my first truck.
Big change from when I purchased my 2014 Fusion. Very convenient. Several service writers. Easy drop off and return. Sunrise is a bit inconvenient as I now live in Altadena. However, I know that I will be leaving my car with a servicer that knows the vehicle. It had only 33,091 miles when I brought it in. It is likely to be driven for a long time. I'd like to be certain that when it is inspected and serviced, it will be done by employees both familiar with my car, and there to build good will with a customer.
I was a star Ford customer they were busy couldn't help me that day l called Sunrise and spoke TO Jessica Lopez she said come in I did she took of my car in a timely manner ever since then I been a Sunrise customer Jessica gets me in and out this very important TO me If I didn't know better I would think Jessica was the owner service is important TO me
Once again Sunrise Ford provided excellent repair service. Scheduled recommended services were done on my 2007 Ford Explorer and they were all done professionally and no issues. In addition, Service Advisor Nick Soriano was very knowledgeable in handling the services needed for my Ford. He was also very easy to discuss with concerning future recommended services for my Ford and what they entail and costs.
Excellent customer service as always. Services completed without any issues. Nick Soriano, Service Advisor well knowledgeable and easy to discuss services rendered and any future schedule recommended services.
I no longer live in the area but, I still have my car at Sunrise Ford. I trust their technicians and their professional staff. Their prices are fair and the service work done has always been great.
Always good service! Leslie is a great service rep!!! I said all I wanted in the first nine words making me type 25 before accepting my review almost made me leave but I'd thought I'd tell you all why!!!
Very pleased with service. Car was ready in just over 1 hour
Always great service! Easy to make an appointment, check in and check out. They are friendly and courteous; never pushy or obnoxious. The service takes a little longer than other places, but you feel like it's been done right when you leave.
Outstanding Service !!!! Great Service Advisor....Thank you..
I had a very good experience during the purchasing process of my 2020 Mustang. Miguel was very helpful as well as all the sales team. Love the car and looking to buy another car very soon from them as well.
Excellent service and the representative was very helpful.
Nick Soriano was my service specialist. So incredibly professional, helpful and knowledgeable. Nick was very communicative about how long the service would take and clear about extra repairs. Five star experience!

Welcome to Sunrise Ford - North Hollywood
Car shoppers have found that Sunrise Ford - North Hollywood is the best place to find new Ford Cars, Trucks, SUVs, in Southern California. New Ford Hybrid models are all in stock at our Sunrise Ford - North Hollywood Dealerships, with more than 2500 vehicles to choose from you are sure to find the perfect Ford vehicle to fit your lifestyle and your budget. Browse our full inventory online at both of our huge Southern California locations. Sunrise Ford - North Hollywood is the leading authority on Ford Cars, Trucks and SUVs serving Los Angeles. Ford owners depend on the solid craftsmanship and innovative technology built into all Sunrise Ford - North Hollywood vehicles serving Glendale, Burbank, San Fernando and other Los Angeles area car shoppers are invited to stop by our Ford Dealer showroom, take a test drive and see why so many car shoppers are choosing Ford over the competition.
Contact Us
Sunrise Ford - North Hollywood
5500 Lankershim Blvd
North Hollywood, CA 91601
Sales:
747-205-0037
Service:
818-584-1672
Parts:
818-201-2571
Directions